TIMELINE
Training in Economics commenced at Can Tho Institute in the 1966-67 school year, conducted by the School of Law and the School of Social Sciences. Officially, Agricultural Economics Devision at the College of Agriculture headed by Professor Nguyen Viet Truong was established in accordance with Decree 62-SL/GD on March 31st, 1966, Decree 148-SL/GD on August 2nd, 1966, Decision 54-VĐH/NN/QĐ on June 18th, 1969, Document 186-VĐH/NV on October 10th, 1968, and other related documents issued in 1970-1971.
In 1975, Can Tho Institute was renamed Can Tho University, and the Department of Economics was set up at the Faculty of Agriculture in accordance with Decision 172/TCCB on September 8th, 1976. In 1977, Decision 307/TCCB on May 7th, 1977 by Can Tho University dissolved the former Department of Economics and established the new Department of Agricultural Economics affiliated to Can Tho University and headed by Professor Nguyen Thai Luan.
Later in 1979, the Faculty of Agricultural Economics was officially born by Decision 791/QĐ-ĐH on July 30th, 1979 issued by the Ministry of Higher Education and Professional Training of the Socialist Republic of Vietnam out of the former Department of Agricultural Economics. On October 12th, 1979, Can Tho University issued Decision 451/TCCB to activate the Faculty of Agricultural Economics and received the first batch of student (Class 5 of 1979). In this period, the Faculty was headed by Professor Nguyen Van Truong (Dean) and Professor Dam Ho Cau (Deputy Dean). Professor Dam Ho Cau was then appointed Dean of the Faculty according to Decision 232/TCCB on November 15th, 1982 and Decision 350/TCCB on October 30th, 1985.
In the 1986-87 school year, apart from the field of Agricultural Econmics, the Faculty started training students in Acounting, Finance, and Trade, in collaboration with the University of Economics of Ho Chi Minh City. In 1995, the Facutlty changed name to the School of Economics and Business Administration (SEBA) to meet the tasks raised by Doi Moi (Economic Renovation) in accordance with Decision 2960/GD&ĐT on August 26th, 1995 and Decision 147/ĐHCT.TCCB.95 on October 6th, 1995. In 2015, the name of the School was then shorten to the School of Economics.
Given its great achievement in the number of students, the fields of specialization, and prestige, the School was given new name of the School of Economics CSE comprising nine faculties according to Decision 74/NQ-HĐT of Can Tho University on September 29th, 2022. This turning point brings about a bright opportunity for the School to develop to better serve the community.
AFFILIATES
FIELDS OF STUDIES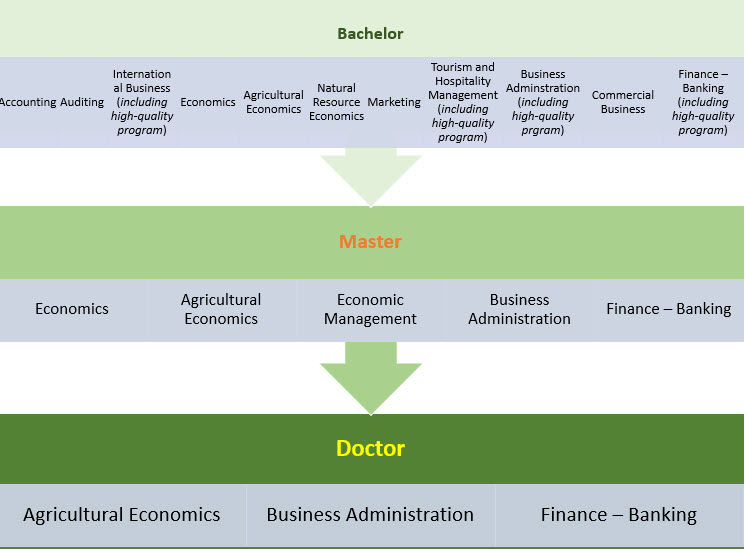 INTERNATIONAL RELATIONS
Given its well-trained and highly committed lecturers, the School of Economics CSE has had broad relations with many universities and institutes in the United States of America, Europe, Asia, and Oceania to conduct research (publishing and organizing international conferences), training (exhanging lecturers and students), and internships.
This wide-range international relationship enables the success of the School of Economics CSE in the past and in the future as well.
VISION
The School of Economics CSE strives to be among top economics and business schools in Southeast Asia in 2025.
MISSION
The School of Economics CSE is to provide high-quality human resources, to conduct research to solve problems in economics and business to serve the socio-economic development, and to stengthen close relations with institutes and universities around the world.